Substantial offer for you to experience the unique culture of Japan, "Kimono" and "Traditional Japanese Dance" at the same time !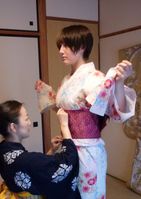 The Kimono, a beautiful traditional garment, is a source of pride for Japanese.
Kimono and Japanese traditional dance are a unique culture to Japan.You can try both!!
Let's put on Kimono first. You will sense a different touch from western clothes and you may feel that your back is straighten up naturally when you are dressed in Kimono.
And you will learn how to wear it stylishly, how to make typical behaviors and how to walk in Kimono.
After learning those basics, you will then experience traditional Japanese dance.
You will be dancing to the tune of "Sakura Sakura(Cherry blossoms)", one of the most popular traditional Japanese song. You can master the piece(within the lesson).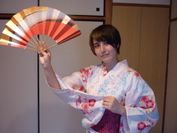 What you will experience;
1.You will receive a brief overview of what Kimono and traditional Japanese
   dance are like.
2.You will get dressed in Kimono. 
   You can choose one from our selections.
3.You will learn some basic behaviors while you are in Kimono.
   Standing up, sitting down...you have never moved in that way.
4.You will learn Japanese traditional dance. "Sakura Sakura" is a traditional song.
   Once you master dancing to "Sakura Sakura", you should be able to show
   your Japanese dance at any place.
5.Finally you will take commemorative photos posing nicely in Kimono and  
   you will become a Kimono Beauty or Kimono Handsome!